Very Steady As She Goes
DolphinQuest is a 'Lagoon 410' sailing catamaran. She is docked right on our doorstep at the Retreat Centre. Sailing or motor cruising, she offers us the simple, steady beauty of being on the ocean.
The boat is comfortable inside and out, with plenty of places to relax in the shade or sun and soak up the stunning scenery.
There is a marine toilet (head) onboard and wide rear steps (transoms), which allow easy entry in and out of the water.
We usually motor out (surprisingly quiet) of the bay to meet the dolphins. When the breeze picks up, we sail along, harnessing the loveliness and power of nature. Catamarans are stable and don't roll side to side like mono-­hull boats. DolphinQuest's stability means nausea is rare, even for those usually sensitive to sea-sickness.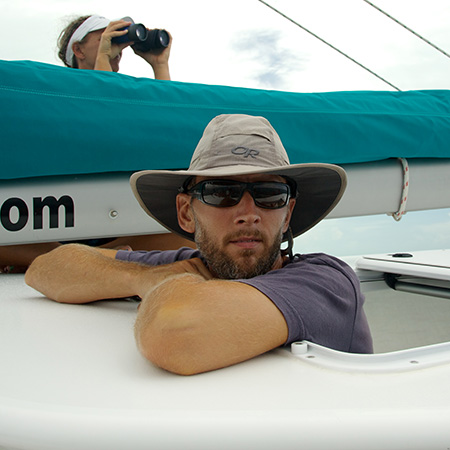 Vijan Kostal
Yachtmaster Offshore RYA Cert. Bahamas Boat Master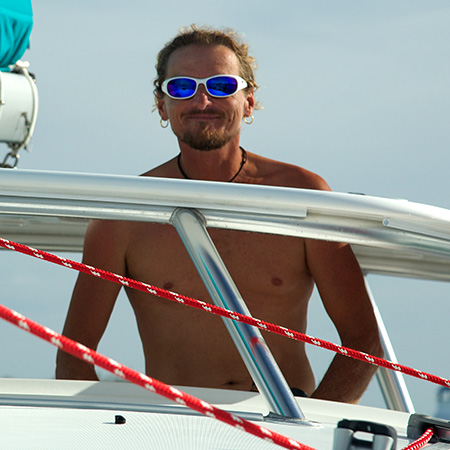 Atmo Kubesa
Yachtmaster Offshore RYA Cert. Bahamas Boat Master
Two fully-­licensed captains take care of us on the ocean.
DolphinQuest is registered in the USA. She operates under The Bahamas Charter Permit for which she undergoes an annual check up and inspection every year.
Safety is our priority. We familiarize everyone with the boat and safety features before we leave the dock. All crew are Red Cross trained and we have an automated external defibrillator (AED) on board.