Birding with Nala
Some of you may know Nala as our reservations specialist. What you may not know, is that she's a certified nature nerd with a passion for birding. The feathered kind, in the wild.
Since playing in the woods and creeks of her childhood backyard in Virginia, she's been fascinated by all the chirping, swooping, foraging, nesting and other things birds do. As an adult, she had a birdy-philia epiphany when a flock of Western Meadowlarks erupted from an Oregon field in a flash of golden enchantment. She was hooked.
"Bird watching is inspirational for me. Wherever you are, they are too, and if you pay attention, you can see the beauty of nature unfurling, connecting you to a sense of wonder and oneness".
Nala's birding expertise is extensive. She served as an Education Intern with the Klamath Bird Observatory and for five years led a bird-watching program on the Oregon coast. She hosted thousands of beach visitors exploring tidepool eco-systems during nesting season for charismatic seabirds like the Tufted Puffin. Sharing sights and stories of their billing, burrowing, laying eggs, and feeding hatchlings, before the next stage of the lifecycle began, and they flew back to sea.
Nala has been observing Bimini's birds for the past 14 years, developing an intimate knowledge of their looks and behaviours. But there's always something new. On her most recent trip in September 2017 Nala spotted several bird species she'd never seen in Bimini before. Like a Peregrine Falcon hunting a Belted Kingfisher (which escaped). And species she'd not seen before, anywhere. Like Black and White Warblers, distinctively coloured little devils, hunting for insects on the stone walls in WildQuest's gardens.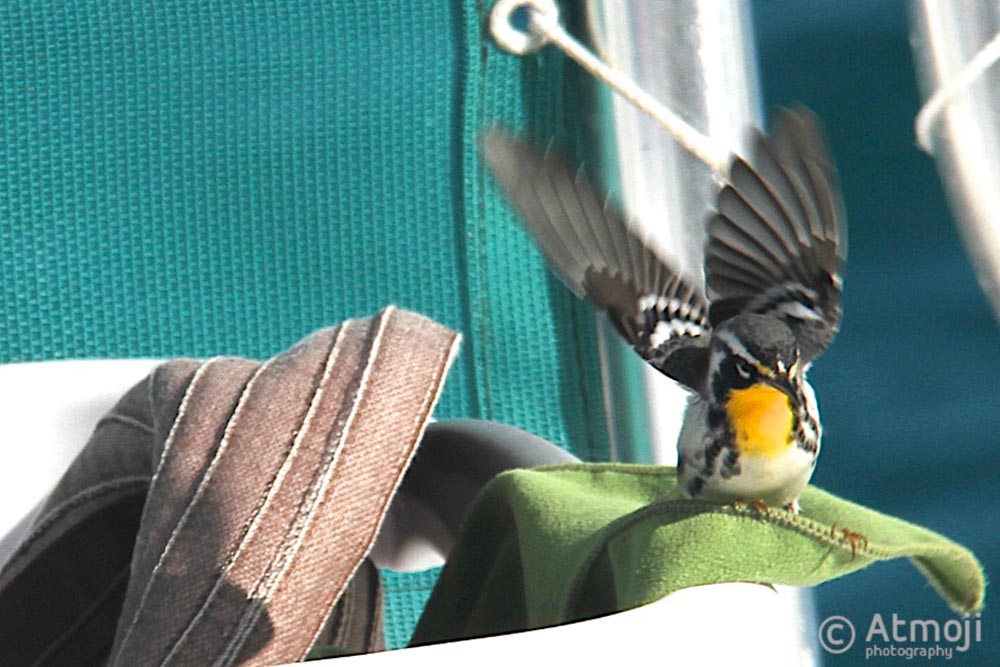 When not on Bimini, Nala actively participates in her local chapter of the National Audubon Society, a network of bird and habitat conservationists. And explores the myriad ways that bird and human lives overlap.
It's all a matter of perspective. "For example, where someone else may see a trash pile, I see an opportunity for nature," Nala laughs. "Such as a flock of hungry American Redstarts feasting on insects, while flashing their bright orange and yellow feathers". I could treasure-hunt for birds all day she adds, especially with friends, exploring above and below the sea.
For those of you, like Nala, who bird-watch as a meditation, it can be a joyful tuning of a richer awareness, realizing how everything is connected in this web of life. Just like finding the dolphins in their wild natural habitat, birdwatching also connects us to a greater whole, which touches our beings.
"Birds AND dolphins, all in one? That's my seventh heaven," Nala beams.
Join Nala on her facilitator retreat, Sept 30 – Oct 6 2018.
Check all our 2018 facilitator and Sacred Journey retreats.