Island Updates: Winter Reflections
Hello WildQuest Family
I'm reflecting on this past year on Bimini as I prepare for my three-week trip to the U.S. To have spent an entire year in this beautiful place has been a gift beyond my imagination, full of blessings and challenges. As I think of re-entry and the whirlwind of activity ahead, I'm filled with excitement, anticipation, a wee bit of anxiety and a whole lot of gratitude.
Just a few of the many gifts from this year…
Experiencing winter here for the first time.
The arrival of the Pelicans.
Being able to see the sunrise and sunset from the island every day.
Learning to slow down and just be.
Learning that productivity does not define my worth.
Having the time to learn and grow.
And having time to play and enjoy life here!
I've also been helping with Bimini's Animal Clinic – life on the island is not easy for most of the dogs and cats here. It's heartbreaking and also taught me a lot about letting go and just loving them while they are with us.
Our sweet feline friend from next door, Jordan, for those of you that met him, unfortunately, he died in January. He is dearly missed and I swear sometimes I feel him running up the stairs in the morning to greet me like he used to!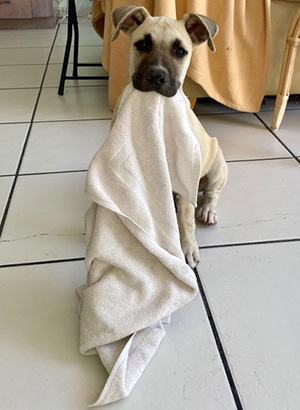 And, we have a new neighbor, Archer the dog, who is a regular visitor now and quite adorable.
I look forward to seeing missed crew members and guests from last year and it will be so nice to be out on the water, swimming with dolphins and cooking up some yummy things in the kitchen.
Until we see each other in Bimini, lots of love!
Niketa