Bimini – the ultimate nature lover's paradise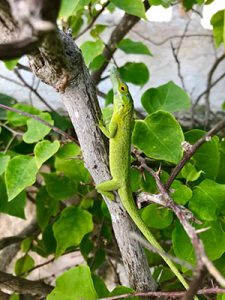 One of the reasons people love Bimini so much is the abundance of nature and wildlife.
This is a place to fully recharge, connect to Mother Nature and switch off from the hassles of day to day life.
As if waking up surrounded by blue ocean and spectacular sunrises wasn't enough, every day we're blessed to share our home with a huge variety of birds, friendly lizards, healing plants and beautiful brightly coloured flowers. Everywhere you look is vibrant and full of life.
There's nothing more mesmerizing than gazing up at the huge Frigate birds that circle the island, gliding on the air with their giant wings.
And then of course there's the treasures of the underwater world. Being surrounded by crystal turquoise water means we're blessed with seeing so many of the creatures that live beneath the surface. Every day we go out onto the ocean to connect with our beloved dolphins, and we swim and snorkel over some of the most beautiful coral reefs in the world. We frequently spot (and swim with) nurse sharks, turtles, sting rays (sometimes eagle rays!) rainbow fish, squid and much more. Every day is different and full of natural wonders.
One of the reasons the island is so abundant with nature is the fact it's surrounded by beautiful mangrove forests. These part underwater forests are natural nurseries for juvenile marine animals, who spend the first part of their lives living here, until they're big enough to go out to the reefs.
Whether you take a kayak or small boat trip into the mangroves, it's beautiful to explore and is one of the most tranquil places you may ever visit. It's also well known that this was the place Martin Luther King visited to write his famous speech, and a statue of MLK can now be seen in the mangroves – if you can find it!
Just a couple of minutes out of our retreat centre and you're right there on one of the most beautiful deserted beaches you've ever seen. Walk on the sand (our dog Sandy will most probably join you!), listen to gentle waves and gaze out over the bluest ocean you've ever seen and be reminded of your own true nature.
If you love immersing yourself in nature… Bimini is the place for you!