Swimming in Love
WildQuest friend and retreat facilitator Allison Stillman led a beautiful retreat with us this summer. Read her experiences of discovering WildQuest for the first time and connecting with the dolphins.
It was 12 years ago I journeyed to WildQuest for the first time. I had been taking groups to swim with wild dolphins in Hawaii for over a decade and read an article in LA Yoga about WildQuest. I knew immediately that was the next spot to bring a group. Little did I know I was about to discover heaven on Earth.
Not only is the water the most exquisite aquamarine color, but it is also a warm 84-85 degrees, perfect for spending long periods of time in the utmost comfort. The water also happens to be crystal clear the majority of the time due to the Gulf Stream, which is continually washing the waters clean.
The very first trip left me completely altered and forever changed with the encounters we had that year. The dolphins seem to really love interacting with the human pod, especially when we come together as a pod ourselves and be present in our hearts with love and gratitude.
Twelve years later, the trips just get better and better. The retreat centre is located on the bay, and the crew are the most heartfelt, deeply spiritual, and consciously present, anticipating every need of those of us who are lucky enough to visit.
The food is sublime, and the the love is palpable from all. This year was exceptional in every way, the water, the crew, the food, our participants and of course, the dolphins.
We witnessed them in the largest numbers I have ever seen in Bimini, and they graced us by accompanying us along the water, dancing all around us in the water, and engaging each and every member of our pod for heart opening encounters.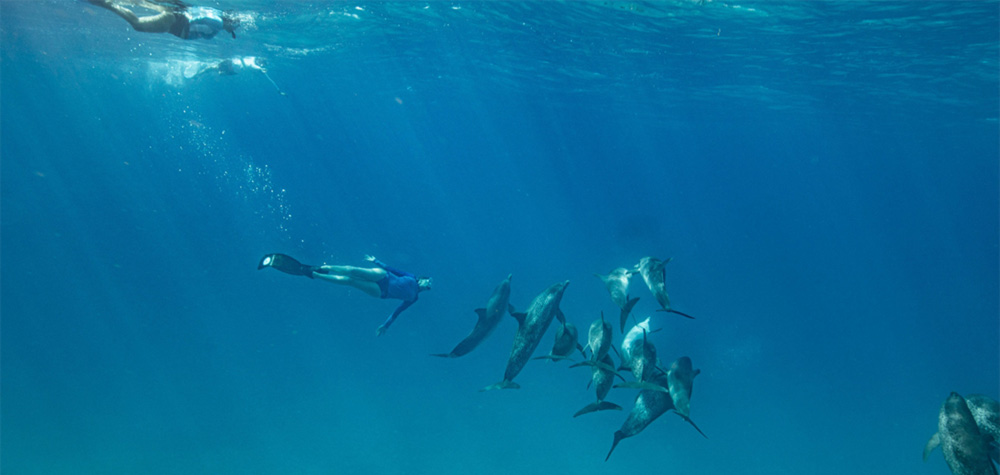 For me, I found myself immersed in pods, completely surrounded by their love and playful hearts. They came up to look me in the eyes, and swim heart to heart, transmitting their love and connection. They came to us every day, even as they slept, swimming with one eye closed, just to connect in the dreamtime, as one pod, one heart, and one mind.
There is nothing, absolutely NOTHING that is more enchanting, more fun and more transformative than being the water with wild dolphins!
The entire crew at WildQuest are skilled and accomplished at providing an optimal experience, both at sea and on land.
I am forever in love and feel deep gratitude that I've been graced with the experience of Swimming in Love down in Bimini by the Sea!
Connect with Allison at www.allisonstillman.com