Silva's soul touching journey
It all started with the most stunning flight I ever took. Being in this small plane with nothing but the sky above and the sea under me I felt free and excited. It was a small adventure itself but as the outline of the island appeared I knew the real adventure was just beginning. Taking the water taxi from the airport to WildQuest revealed a first glimpse of the landscape, the clear water and the friendly and helpful residents of this beautiful Bahamian island.
When we arrived at WildQuest, the whole crew waited on the dock and welcomed us warmly. The moment I got to know them I could feel that they were not only working together but are also friends, a true team, who support and appreciate each other. Everyone had their area of responsibility and we couldn't have been in better hands.
The food was delicious, the house was cozy, the catamaran was fantastic and meditation, massage, yoga and human design allowed to take time for ourselves and relax. As with everywhere I travel, it's the people that usually make the time special and even if the landscape and the underwater world of Bimini are tough to beat, the crew made it possible for us to enjoy the stay to the fullest – thank you!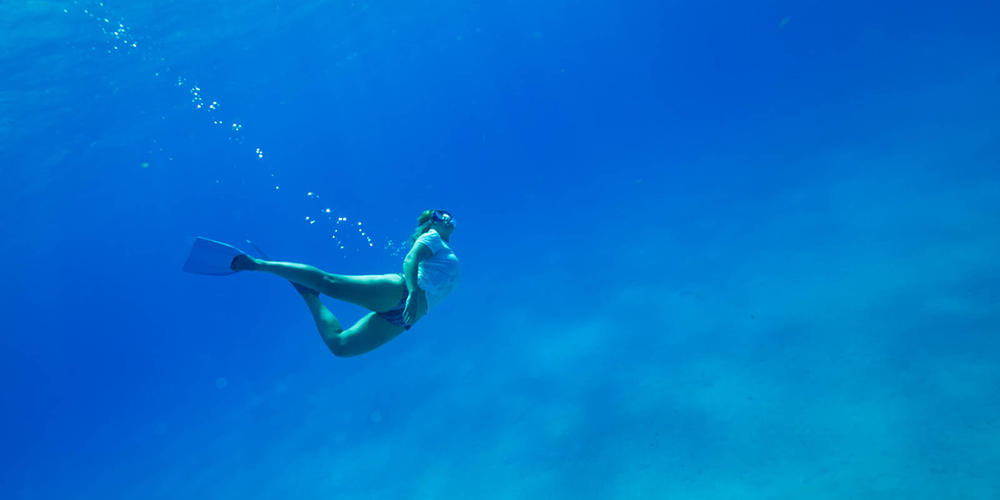 We went out every day on the catamaran, named DolphinQuest, and in the first few days I had to take off my sunglasses several times to believe all those breathtaking shades of blue and turquoise that the Caribbean Sea offered me. It turned out that the world under the ocean's surface is just as beautiful. White sand, fish, coral and colourful water plants are to be found close to the shore and, further out where the sea gets deeper, we met the beautiful and heart touching dolphins and their nurse shark friends.

All in all, my stay in Bimini with WildQuest was very inspirational and touching. The island gave me space to breathe deep, to enjoy the beauty of our impressive planet, to slow down and meet new friends.
Conclusion: I want to go back 🙂